Combi Brite Range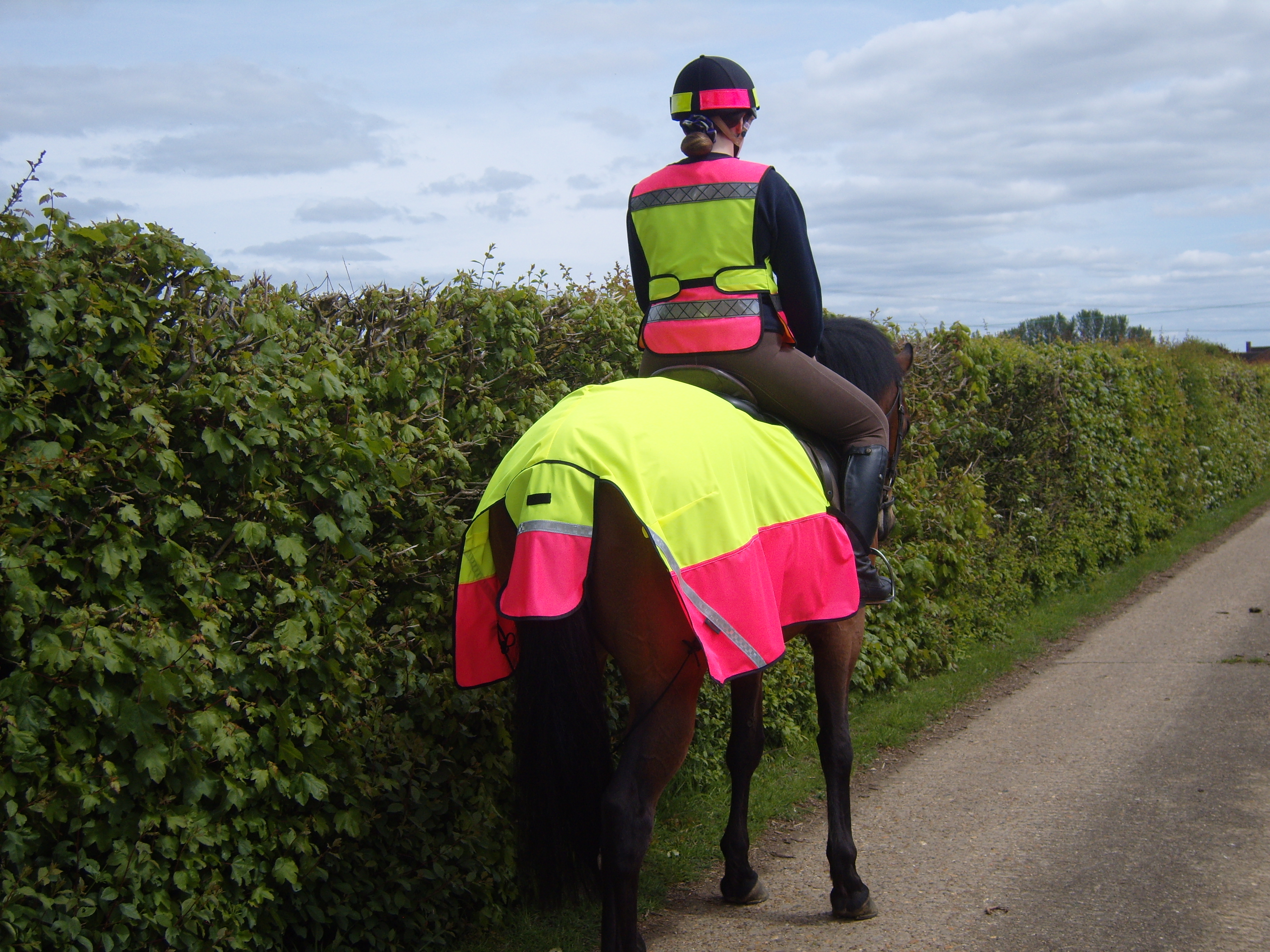 - During the Spring/Summer various crops spring into flower and later trees shed their leaves after turning yellowish in colour. This means that yellow is not always the most effective high viz colour to use as it can sometimes not stand out enough against the background you are riding beside. We always advocate that riders use a combination of high viz colours at all times of year to be the most visible. For instance, drivers do not often come across high viz pink in nature and is therefore interpreted by drivers as something different/odd which in turn can trigger a more cautious approach
V-Bandz has applied registered "Design Rights" to our new range with the Intellectual Property Office
"Combi - Brite" Waterproof Quarter Sheet£35.99

A waterproof sheet which attaches to the saddle and will not slip sideways or backwards in use.

"Combi Brite" Adjustable Mesh Waistcoat£23.99

Certified to EN1150
A great waistcoat designed especially for riding.

"Combi Brite" Deluxe Legbands£12.99 - £13.99

The most fluorescent/reflective high vis boots on the market

"Combi Brite" Fly Mask with ears£6.75

Fly Mask with contrasting ears

High Viz Hatband from our Combi Brite range. It is available in pink/yellow or orange/yellow

"Combi Brite" Mesh Quarter Sheet£25.99

Will not make the horse sweat up

"Combi Brite" Mighty Neckband£14.99

A two coloured 50mm wide neckband to alert oncoming drivers

"Combi Brite" Tailguard£10.99

Fits from slim to really bush tails

Shires Brushing Boots£23.50

Shires Brushing Boots.