About V-Bandz
High Visibility Products for the Rider - Horse - Pet
V-Bandz Ltd has been a leading innovator in equestrian high visibility for 19 years. Our product range for the rider has been tested and certified to the European standard of EN1150 (waistcoats and tabards) and EN13356 (accessories such as rider hatbands) which means that you can be sure you are buying a quality product which will last and provide additional safety day and night.
Because we manufacture in the UK and sell directly to the public our prices are very keen, which means that you get a great quality product at a good price.
Combi Brite Tassel Tailguards
By popular demand we have now updated the colour options to include a Combi Brite orange and yellow or pink and yellow option. This Tailguard is very light and easy to put on. The elastic band at the top has sticky lines of rubber inside to make it non slip. Click here for more details
The Dangers of riding in bright summer sunlight.
This horse and rider are visible to drivers at this point in the road but the moment they hit the shade of the trees overhanging the road they would become nearly invisible to drivers if they were not wearing high viz. Drivers need time for their eyes to adapt to the shade. Please make sure you wear lots of high viz if this sort of riding scenario applies to you. The drivers will see you so much quicker.
Plain yellow might not be the best colour to be seen under the trees, which is why we really advocate that you mix your high viz colours.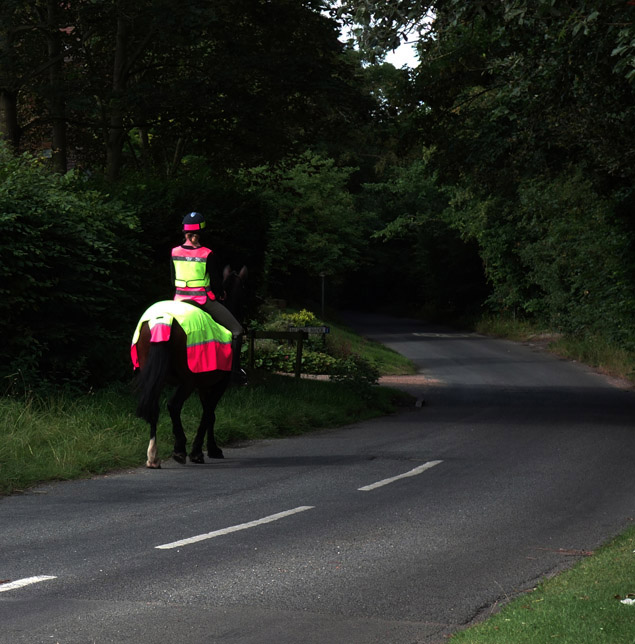 Why bother to wear Hi-Viz?
Wearing High Viz means even in the brightest of sunlight you and your horse will be much more visible to drivers. The fluorescent colour is seen by the human eye up to 3 seconds sooner than any other colour, even white. This means that a car travelling at 50mph could see you 250 meters sooner than when you are wearing no hi-viz at all.
Take a look at the pictures below; these were taken on a bright sunny day under the shade of trees.
We are not saying that car drivers cannot see the horse on the left - but they will certainly see the horse on the right first - hence the extra 3 seconds - Keep Safe!